Description: Responding to the changing environment of Infrastructure in India and the need for greater collaboration between Industry and Academia, the Infrastructure Committee organized the sixth edition of their flagship event, InfraBlaze'21. The sixth iteration of InfraBlaze was themed around 'Rebuilding Infrastructure for a Resilient India '.
Having the current constraints into consideration and being true to the learning needs of the course, For the first time, this flagship event was organized virtually on an online platform from 4th to 6th March, 2021.
---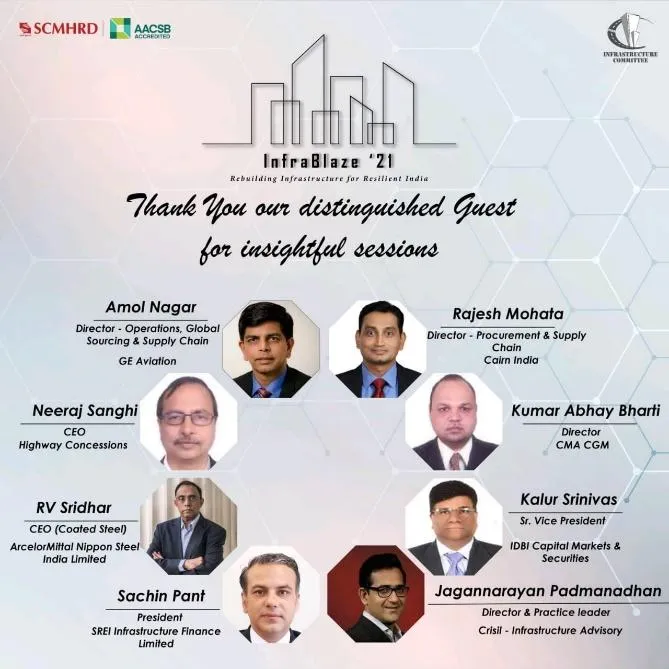 ---
Theme: The event was structured around various themes across 3 days with enriching and insightful sessions by various distinguished speakers.
---
Day-1: Resuscitating Operations and Supply Chain Management for Infrastructure Sector.

The COVID-19 Scenario brings in the necessity to effectively manage and operate the infrastructure projects and assets which according to the government has a huge impact on the economy and the GDP. So, as a matter of fact, the students should be aware of the industry trends by listening to the practical experience of the industry leaders.

Day-2: Contemplating Innovative Financial Models and PPP in Infrastructure Sector.

In today's scenario government is continuously focusing on PPP investments and investors are looking at Innovative financing options while investing on Infrastructure projects. The industry stalwarts presenting their views on this topic would really serve the purpose of students to know more about the advancements in this area.

Day-3: Dissecting Project Feasibility and Risk Management for Infrastructure Projects.

While initiation and planning of a project is important, it is also equally important to gauge and identify the risks associated with it. The organizing committee will take great effort to have on board big industry giants working in this field so that current students can take huge benefit out of it.