INFRABLAZE'22
Description: The pandemic has brought to light how reliant we are on developments in other parts of the world for the products we need daily. As businesses look to reinvigorate their operations after the crisis, current innovations in sustainability can help build more resilient supply chains through a stronger focus on continuous improvement, transparency, and shared responsibility.
The Infrastructure Management Committee brought forth the 7th edition of the flagship event Infrablaze'22, which was themed around 'Powering Sustainability by Redefining Infrastructure', and organized virtually from 14th to 16th March 2022.
The event was structured around sustainability emphasis in projects significantly enhancing operational performance and efficiency in the long run across three days with enriching and insightful sessions by various renowned dignitaries.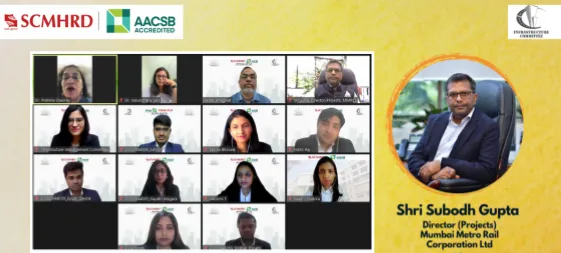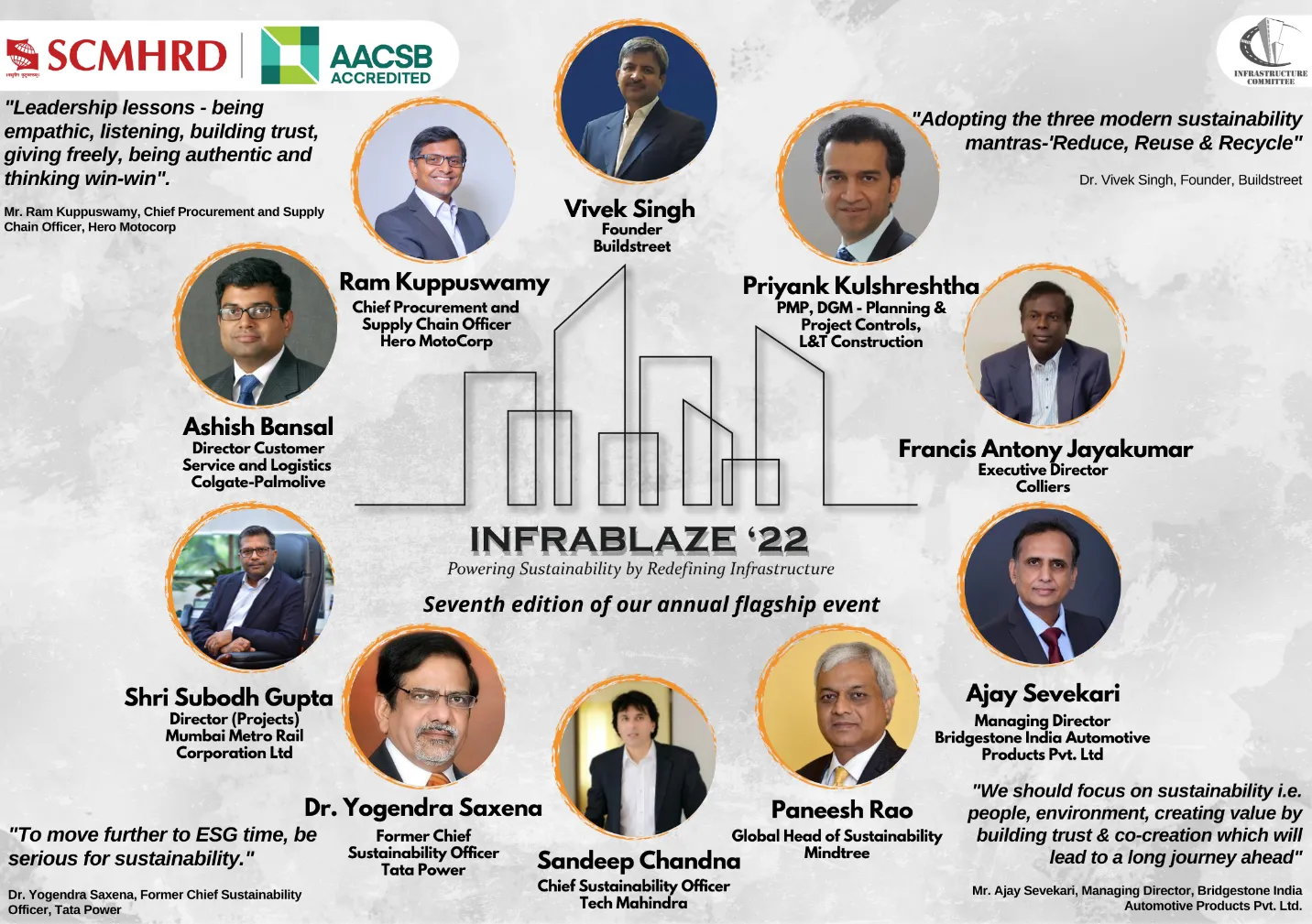 ---
Theme: Powering Sustainability by Redefining Infrastructure
---
Inauguration:
The event was inaugurated by Shri. S.K. GUPTA, Director (Projects), Mumbai Metro Rail Corporation Ltd, in the presence of our Honorable Director, Dr. Pratima Sheorey Ma'am and Deputy Director Dr. Netra Neelam Ma'am. The topic of discussion for the session was "Aiming for Sustainable Infrastructure Development, and a preview of 33.5 Km fully underground Colaba-Bandra-Seepz Metro Line in the coastal city of Mumbai".

The occasion was also graced by Dr. Kedar Bhagwat, Head of Department, Faculty Coordinator, who moderated the session, keeping it interactive, and our esteemed faculties Dr. Vasundhara Sen, Ph.D, Mr. Sameer Gujar and Dr Rahul Hiremath.

Shri. S.K. GUPTA started by showing Statistics and Development regarding Sustainable Infrastructure, gave a glimpse of the current situation & need for Sustainable Infrastructure, and then threw the light on Sustainable Development Goals, the Investment in SGDs and Goals directly related to Sustainable Infrastructure. He talked about the current position of GHGs, where the Paris Accords were also discussed.

The session then went ahead with an in-depth discussion on the underground Colaba-Bandra-Seepz Metro Line, where he started with the need for Metro in Mumbai. He concluded the session by throwing light on the Financial Aspects, Logistics Challenges and Salient Features. Some of the key discussions with respect to the Metro Line and problems such as mitigation of Mumbai Flood concerning the Projects were also addressed.

---