LEAdx ~ an industry academia interaction
Responding to the changing nature of Infrastructure in India and the need for greater collaboration between Industry and Academia to impart leadership qualities in our graduates Infrastructure Committee launched an event focused on Leadership talks called 'LEAdx - Industry-Academia interactions' . LEAdx 2019 was the brainchild of the current Infrastructure committee and it is a part of experiential learning and industry interactions which are important parts of the pedagogy at SCMHRD. The theme of the event is 'Navigating headwinds of change in Infrastructure' which will discuss about transformational changes by infrastructure companies to deal with changing business environment .Various growth strategies was talked about in conditions which makes growth harder for companies. This engagement focussed on the role played by leaders in dealing with rapidly changing business environments, creating sustainable resilient companies and navigating crisis situations. LEAdx witnessed active participation from the industry and we had stalwarts enlightening students with their valuable experience.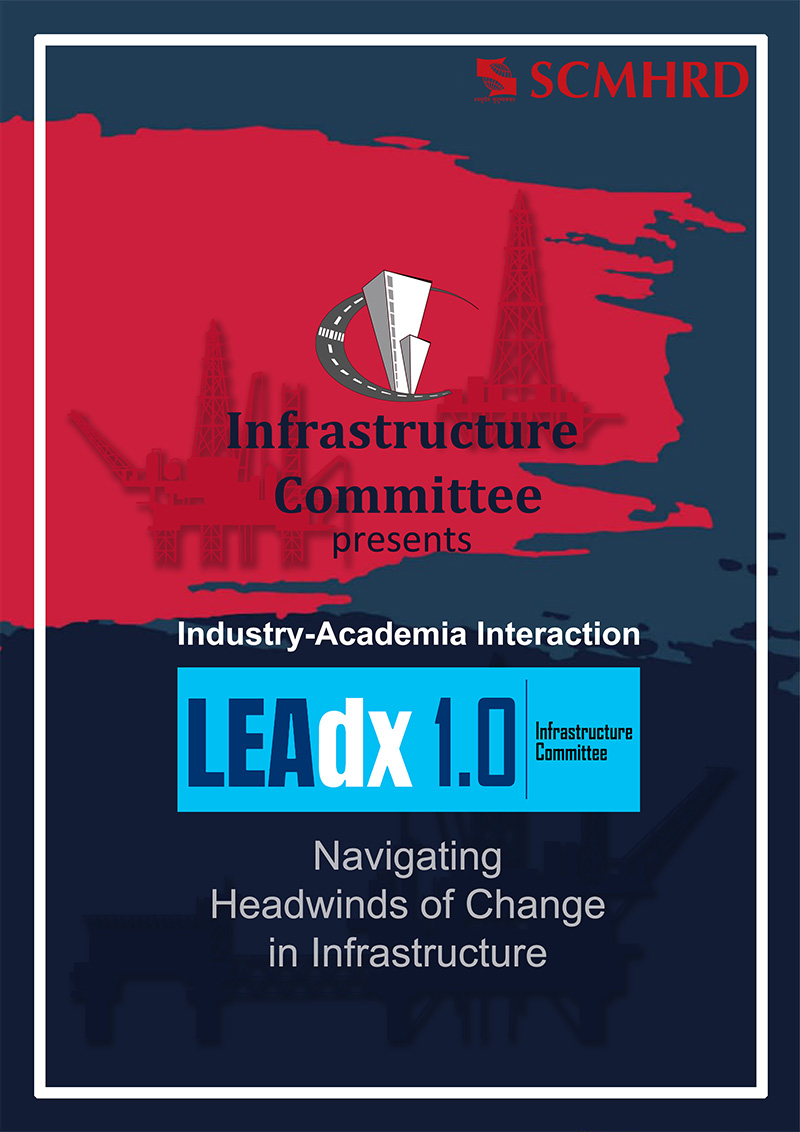 ---
Our Speakers
Mr. Sarang Bhutada (Director-Risk & Analytics, CRISIL)

Ms. Vishakha Tiwari (Senior Associate, CBRE)

Dr. Ravindra Utgikar,Vice President, Corporate Strategy and Marketing, Praj Industries.

Mr. Arunava Parial,Director, Turner and Townsend.

Mr.Vinayak Pai,

Group President- Energy and Chemicals , Worley

Ms.Vrinda Pasula, Head-Urban Planning, Jacobs

Mr.Debi Prasad Dash, Executive Director, IESA

Mr.Shashank Jha, Country Manager-Oil Field Equipment, Baker Hughes

Amb(Retd.) Dinkar Srivastava, Former Ambassador to Iran, Independent Director- GAIL and IPGL

Mr.S.K.Dharmadhikari, Tunneling Expert- Project Support Office (Samruddhi Mahamarg); Former CTO,HCC
---
Navigating headwinds of change in Infrastructure ~
As governments around the world face a time of unprecedented complexity and transformation, the infrastructure development becomes more complicated by rapid urbanisation, demographic change and the maturing of our digital age. Infrastructure networks and systems around the globe are under considerable strain. Amid urbanisation, climate change and the dizzying pace of technological advances we need to focus on the brightest minds, by training and deploying more skilled workers, and leveraging new digital tools, it is possible not only to sustain in harder times of tomorrow but to grow at the same time.
---
ORGANISING COMMITTEE
The Infrastructure Committee works to promote and enhance the MBA 'Infrastructure Development and Management' program at Pune's prestigious SCMHRD and is the flag bearer for all the infrastructure related events on campus and carries out planning, organizing, and promoting activities for these events. The committee was established realizing the need for enhancing the learning opportunities for the students . Also the committee keeps the batch engaged in various grooming activities by conducting group discussions ,case study discussions , personal interviews.
Experiential learning and industry interactions are an important part of the pedagogy at SCMHRD and the infrastructure committee always seeks to enhance the learning experience of students by building connections and relations with industry stalwarts for guest lectures, events, conference hence the committee organizes "InfraBlaze" -the Annual flagship Summit for SCMHRD which is an endeavour to bring to a common platform experts from various fields, policy-makers, academicians and stalwarts in the infrastructure sector to discuss the issues and challenges associated with the infrastructure sector today, to impart their practical understanding of the topics and experiences to the students and to postulate future trends, forecasts, solutions and policies. This year the committee conducted InfraCon which saw stalwarts across the globe grace the event.
Leadership series 2019 ie 'LEAdx 1.0' is the brainchild of the current members of the Infrastructure Committee which will deal with transformational changes by Infrastructure companies to deal with changing business environment.
The committee also helps the students pursue live projects with government or private entities to hone their critical thinking and problem solving capabilities. This experiential learning not only contributes to the students overall development as an infrastructure professional but also benefits the company and industry.
In the past our students have successfully worked on prestigious live projects like Pune Smart City Project where the students worked in co-ordination with Pune Municipal Corporation (PMC), McKinsey & Company, Pune International Centre, FICCI, NASSCOM, MCCIA, CII, Zensar Technologies, CDAC to prepare a vision document for PMC .
---